Glyn and I have been doing a bit of development recently on using the ESP8266 WiFi board with OpenEnergyMonitor hardware, we are quite excited about the potential of this little module to both reduce the cost of the system and simplify setup and installation especially for applications that primarily post to a remote emoncms server such as emoncms.org.
Note: we have no plans to discontinue developments and support for Raspberry Pi based systems e.g. emonPi / emonBase. Quite the opposite: the local storage and processing of a Raspberry Pi based system has many advantages particularly for systems requiring more flexibility and customisation e.g Local Emoncms storage. MQTT, openHAB & nodeRED integration. The ESP developments will be ran in parallel, in fact ESP could be configured to post to an emonPi / emonBase via MQTT for local on-site storage and integration.
We are at the moment working on three initial uses of the ESP8266:
1. EmonTx V3 + ESP8266 module
We are initially using the Adafruit HUZZAH ESP8266 module as a development platform. For anyone keen to get going with the ESP8266 Huzzah module it is available from a number of places such as adafruit (USA) and Pimoroni (UK). Any ESP8266 with ESP-12 module should work the same. See lower in the post for EmonESP firmware dev.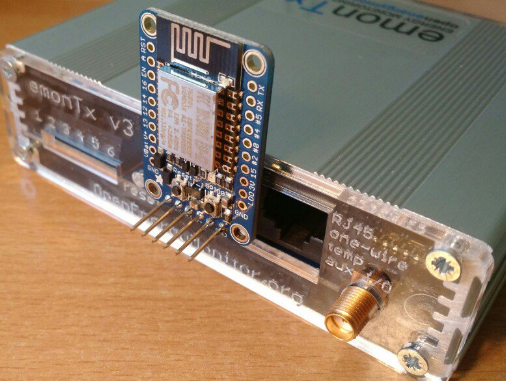 There will be another post very soon detailing how to use this module with the EmonTx v3.
Read on →